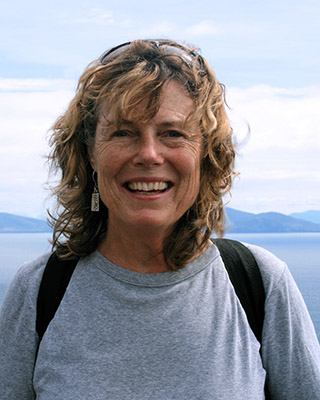 Photo by Christine Chilcott
Can artists label themselves "environmental" when so many different cultural, social, political issues are intertwined, at stake, and flung at their sensibilities? Yes. When there were actual movements in art, life seemed simpler. It was a time that didn't include a future which, now, seems so persistent in the present. I think we are just artists responding to our time in life. Henri Matisse once said, "Exaggerate in the direction of truth." That assumes you know it. It is viscerally clear to me that as our human time is limited on the planet, so our planet is changing, evolving in reaction to what we do to it. The planet is responding faster than we expected into a new version of itself which might not include us.

I think of my paintings as walking a delicate line of being about something and being just about painting. The environmental issues are a subjective platform from which I dive into my paintings. However, once in my work, my mark making flows unconsciously, creating a joinery between one layer of paint with the next and consequently from one idea to another. Although these ideas feel embedded, they also have the capacity to become fluid in color and form. Most of all, I am a painter first, and I am an environmentalist painter.