SELECTED MUSEUM COLLECTIONS
•  Hammer Museum, Los Angeles, CA
•  Brooklyn Museum, Brooklyn, NY [View artwork]
•  Davis Museum and Cultural Center, Wellesley College, Wellesley, MA
•  DeCordova Museum and Sculpture Park, Lincoln, MA
•  The Farnesworth Art Museum, Rockland, ME
•  Grunwald Center for Graphic Arts at UCLA
•  Museum of Fine Arts, Boston, MA
•  National Gallery of Art, Washington, DC
•  Portland Museum of Art, Portland, ME
•  Rose Art Museum, Brandeis University, Waltham, MA
•  The Smithsonian, The National Museum of American Art, Washington, DC
•  Whitney Museum of American Art, New York, NY [View artwork]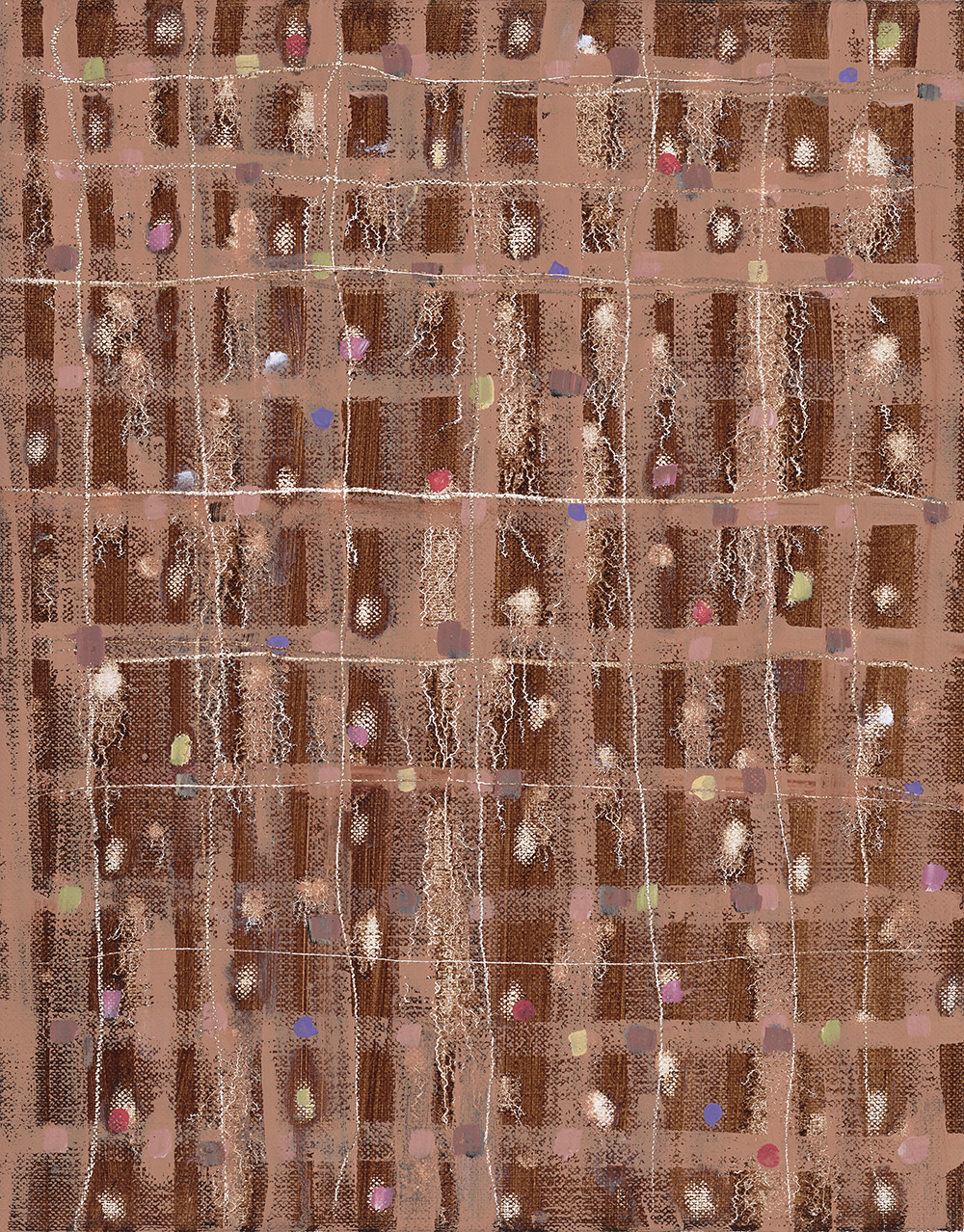 FODDER, 2017     oil on linen, 14 x 11"
(Collection of the Portland Museum of Art, Portland, ME)
"Fodder" represented my often, unconscious irritation that women of my generation were adjunct. Very few women had broken through the glass ceiling and they were often met with skepticism until quite recently. Women of my generation were an unnoticed commodity like simple food fed to livestock. When I chose this basic brown color for the ground against a tenuous uneven grid, I saw it as a scaffolding for me to hang the brightly sparked marks. The more I crafted these colored lights, the more I became aware of my defiance of the painting's meaning. So often the act of painting leads the painter into new dimensions of understanding.
SELECTED PUBLIC AND CORPORATE COLLECTIONS
•  Alaska Airlines
•  Alex Katz Foundation, New York, NY
•  Amerada Hess, Woodbridge, NJ
•  Ariel Reinsurance Company, Hamilton, Bermuda
•  Art in Embassies, U.S. Department of State:
        Belgrade, Serbia, 2021
        N'Djamena Collection, Chad, 2017
        San Salvador, El Salvador, 2016
        Doha, Qatar, 2014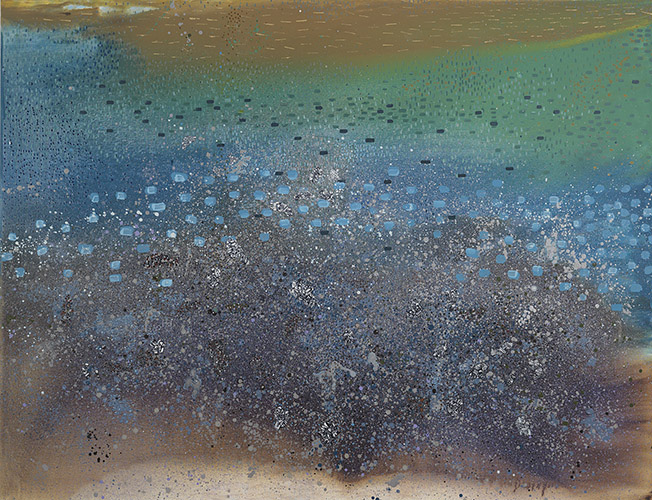 ALCHEMY SOUP, 2014     oil on linen, 70 x 92"
(Collection of the U.S. Embassy N'Djamena, Chad)
•  AT&T Longlines, Newark, NJ
•  Bank of Boston, Boston, MA
•  Berkshire Partners, Boston, MA
•  Boston Public Library, Boston, MA
•  Chemical Bank, New York, NY
•  Fidelity Investments, Boston, MA, New York and Singapore
•  The Gund Partnership, Cambridge, MA
•  Liberty Mutual, Boston, MA
•  Loomis Sayles & Company, Boston, MA
•  Milbank, Tweed, Hadley and McCloy, New York, NY
•  New York Public Library, New York, NY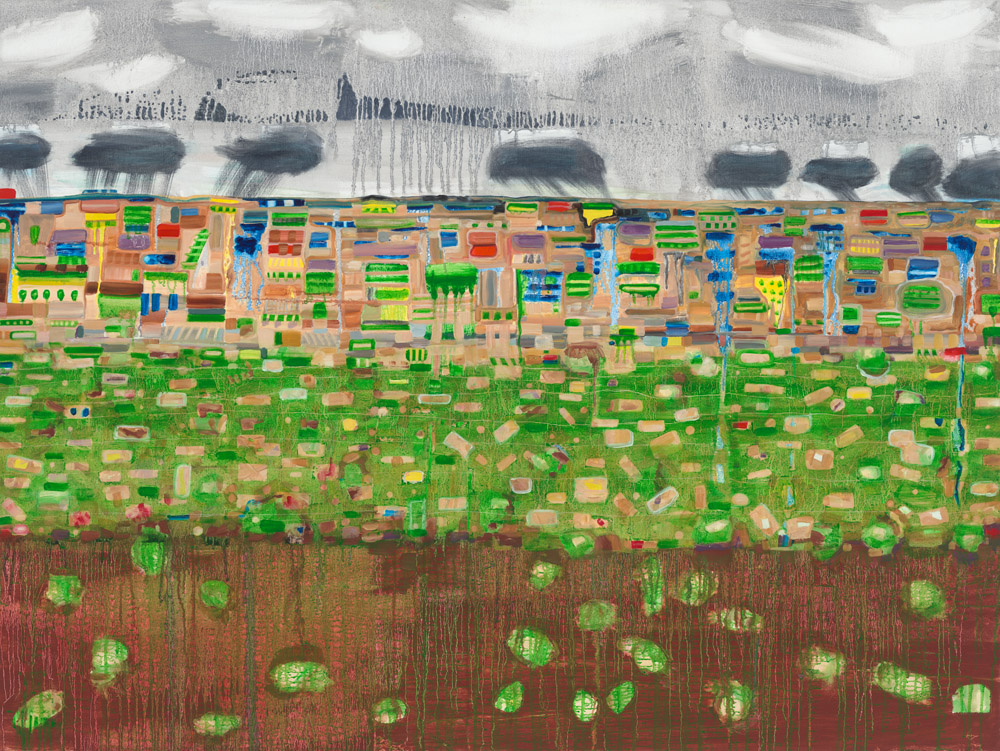 STORMY WEATHER, 2020     oil on linen, 45 x 60"
(Private Collection)
"In her coastal Maine outpost Neely has managed to take knowledge — of ecology and climate issues — and incorporate it into work that is at once provocative and pleasing to the eye. "
— Carl Little, "Anne Neely's Ethical Abstractions," Hyperallergic.com, August 20, 2020
•  Office of Public Works, County Cork, Ireland
•  Perry Corporation, New York, NY
•  Polaroid Corporation, Cambridge, MA
•  The Putnam Companies, Boston, MA
•  Reader's Digest, Pleasantville, NY
•  The Rita Rich Collection, New York , NY
•  Robeco Investment Management, Boston, MA
•  Simmons College, Boston, MA
•  Simpson, Thatcher and Bartlett, New York, NY
•  Sonesta International Hotels, Boston, MA
•  Wellington Management, Boston, MA
•  Wilmer, Cutler, Pickering, Hale & Dorr, Boston, MA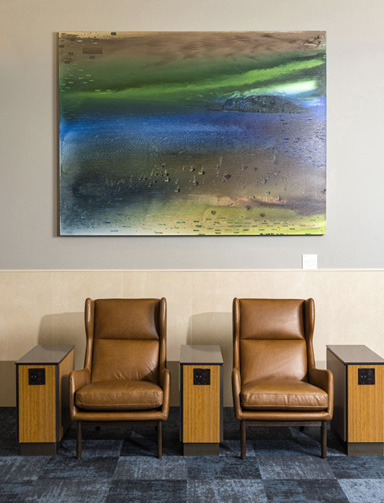 OFFSHORE, 2014   oil on linen, 70 x 92"
(Collection of Alaska Airlines; installation view, Alaska Airlines Lounge at San Francisco International Airport)
"This work reflects the artist's ideas about water and its increasing fragility as well as the impact of climate change on our environment. Its purpose is to engage the viewer in a conversation about our shared responsibility to protect water, and to inspire our accountability for environmental issues facing us."